North Korea: A Social Experiment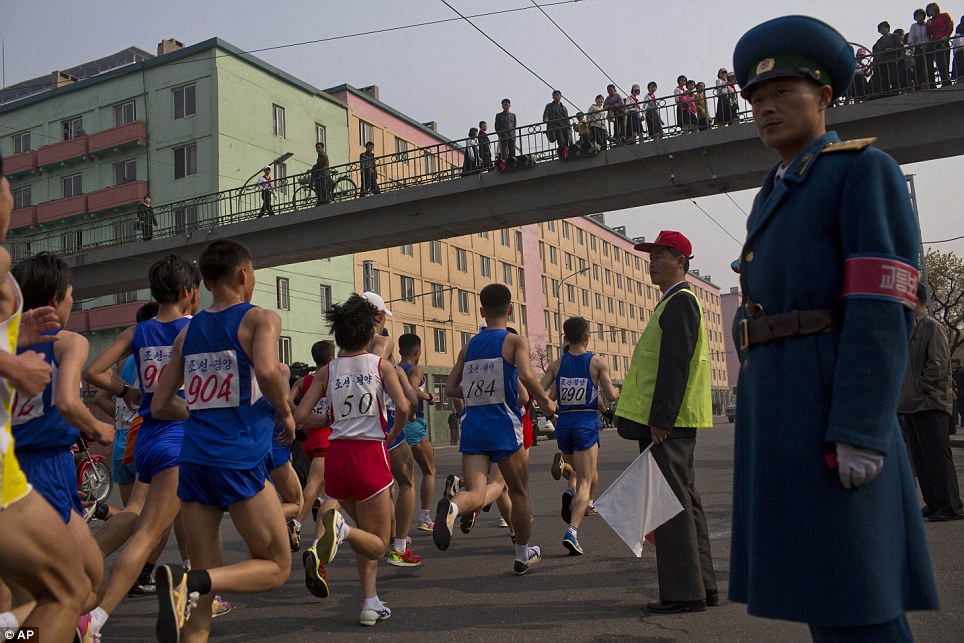 Special guest post by Wendy Ulrich.
Destination runs/races are always exciting. Having the opportunity to see a city on foot and running through areas that are often unseen as a typical tourist is an unbeatable experience. However, how far are we willing to go? Many things factor into this decision. Safety should usually be the first in that decision, but sometimes it's worth it to throw caution to the wind.
The problem with travel is that everyone has an opinion on where you are going and why. If I had listened to the naysayers, I would never have set foot in North Korea. However, my stubborn I'm-going-to-prove-them-wrong attitude won over as I registered for the Pyongyang International Marathon. The race would allow me the opportunity to not only run with about 1,000 other runners from around the globe but to also experience the world of North Korea – untainted by Western media.
My reasons to run this race were trifold: 1)  I wanted an insider's view of what was an enigma to me, 2) I wanted to add a marathon in another country to the books, and 3) I wanted to interact with a society that has been shielded from the world for almost 100 years. No, it certainly wasn't the lush, tranquil, serene destination that many runners plan for, but, for me, it was a must-run event.
Registration for the marathon included a three-day tour of the DPRK (Democratic People's Republic of Korea). I registered about nine months before the event and began all of the usual pre-race training and preparation. I was scheduled to run in April 2016. My only pause came when a student from the University of Virginia was arrested and sentenced to 15 years hard labor.  However, I've learned that traveling to other countries requires respect for others and honoring the written code of that culture, even if you don't wholeheartedly agree.
It comes down to doing the right thing. If you are a visitor – honor the host. I always try to abide by cultural clothing requirements, rules and regulations in regard to religion and, of course, regard for the law. Therefore, I was not overly concerned about visiting the DPRK. I decided to stick with my decision and to jump in with both feet.
My experience in North Korea was nothing short of surreal. While I understand that the parts of North Korea that I was allowed to see were orchestrated by the government itself, my interaction with the people of North Korea was not contrived. I was allowed to see what the government wanted me to see. But the people were a different story. All along the race course, I interacted with citizens that were genuinely glad to see visitors.
Even though there was a language barrier, smiles, flowers, and high fives were abundant along the road. I took pictures, gave hugs, high-fived countless numbers of children, and accepted flowers from the thousands of North Korean citizens that lined the streets. Whether or not they were ordered to be there to support the race, the generosity and genuine kindness shared did not seem forced.
Aside from the people, visiting North Korea is like stepping back into the 1950's. The clothing styles do not vary greatly, the subway system is reminiscent of a time before the Internet and cell phones, and advertising is scarce. The areas included in the tour were perfectly manicured, and citizens were out everywhere painting railings, sweeping common sidewalks, and participating in drills and practices for upcoming events.
Cars were all generally the same as North Korea only has one automobile company, and stores and restaurants are found only sparingly. North Koreans spend their time with families and living up to social responsibilities. There is no time for much else, and the lack of shopping, entertainment and dining options is evidence of a society whose government makes decisions for the people.
My trip to North Korea gave me many opportunities to be thankful for what we have and who we are. While we are certainly not without flaws, I was reminded that I have the opportunity to make my own decisions based on my needs and wants. It was an important lesson and rings so true, especially in this time of political turmoil. As difficult as the election process has been, I'm thankful that we have the choice to participate. Thank you, North Korea – for the invitation, the experience, and the reminder of the blessings of freedom.